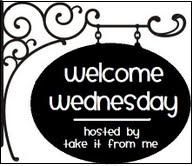 A big "Thank You" to Kristin and Jaime from
Take It From Me
for not only hosting
Welcome Wednesday
, but for also spotlighting my tiny little blog (OK, so I was randomly selected for that, but I'm not one to look a gift
horse
blog in the mouth:-)
Instead of writing about myself, my family or my blog on this most auspicious occasion, I've decided to give you my take on what I fondly (i.e. irreverently) refer to as "The Tale of Two Locas". The two "locas" a.k.a. crazy women I'm referring to are Kelly from the Real Housewives of New York and Danielle from the New Jersey version.
via google images
The word "
loca
" is Spanish for crazy, but even though both of these women come across as nuts, only one of them is truly certifiable. That dubious honor goes to poor Kelly. She is in DESPERATE need of psychiatric help. She is seriously ill (mentally, emotionally, you name it) and is obviously not engaging anyone in the real world. Watching her on the RHONY was almost painful. I felt so sorry for her, and it became apparent to the rest of the cast that her erratic behavior is symptomatic of a much deeper psychological problem. Kelly is not a bitch, just a whack-job. Danielle from the New Jersey "Real Housewives" cast, on the other hand, is anything but crazy. She really is just a bitch, and an evil one at that.
Danielle is the sort of person that deserves every bad thing that has ever and will ever happen to her. I feel incredibly sorry that her daughters have to call this woman "mother". My only hope is that as soon as they become adults, they run as fast as they can away from Danielle and never look back. I could go on and on about all the things that make Danielle the piece of garbage that she is, but why bother. Anyone that watches RHONJ and has half a brain already knows that. So let's not mince words here because I'm Cuban and we always tell it like it is. Danielle is a worthless excuse for a human being and is breathing oxygen for no other reason than to spread her vileness every where she can. That doesn't make her crazy and worthy of pity. She is simply a person that the world, and her daughters in particular, would be better of without. It really is too bad that it was Dina Manzo and not Danielle that quit the show. I would've appreciated not having to subject my eyeballs to the sight of Danielle on a weekly basis.
And that's the way I say "welcome" - with a heaping dose of judgmental rantings. Gotta love us loud-mouthed, opinionated Cubans :-)