When my day seems to get the best of me, and I'm ready to throw in the towel at this thing called "motherhood", along comes a moment like this with my little
holy terror
baby. I live for these moments. They make all the sacrifices worthwhile.
______________________________________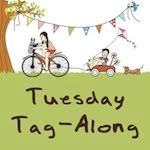 I had lots of fun on my first
Tuesday Tag-Along
last week, so I'm back and determined to find more great blogs to follow. If you're stopping by from TTA and like what you see, then "tag-along" on my journey and let me know you are so I can return your kindness. If you're not here from TTA, try it out! You have nothing to lose, and only new friends and followers to gain. Head over to
Twee Poppets
to add your linky.