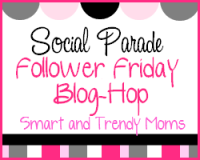 This is my very first Social Parade! While I've participated on
my other blog
, I've been working on getting this, my personal blog, up and running. I'm currently working on getting a makeover (well, the blog, not me). Hope you'll pardon while I get it looking more like me, a crazy Cuban-American mama!
The Social Parade Follower Friday Blog-Hop is hosted by
Smart and Trendy Moms
, and has formally replaced the old Social Parade Wednesday blog hop.
I hope you'll follow my crazy life as I try and strike a balance between my "yankee doodle dandiness" and my "loud-mouthed Cuban" roots. It can get pretty darn messy here as I speak and dream in English, but fling nasty insults and zingers in Spanish (trust me when I say it's more fun to fight in Spanish!). Leave a comment and tell me you stopped by. If you follow me, I'll follow you back (in a total non-stalking manner ;-)
Have a great Friday and a safe Memorial Day weekend!